BMC FootPrints offers a single solution for full service lifecycle management, helping organizations gain efficiency and control through a robust ITSM solution. A flexible, comprehensive, integrated IT Service and Asset Management solution that is easy to install, use and extend – no lengthy consulting engagements and no new development team required.
"BMC Footprints is our On-Premise and Cloud Service Desk option available in NZ and AU.  BMC FootPrints will allow you to effectively manage costs, while also maintaining customer satisfaction and service delivery to your business."
Smart ITSM: Powerful, Efficient, Intelligent, Compliant, Collaborative
BMC FootPrints will allow you to effectively manage costs, while also maintaining customer satisfaction and service delivery to your business.
What makes BMC FootPrints unique?
BMC FootPrints follows ITIL best practices and supports key processes like incident and problem, change, and configuration management. So what sets it apart? BMC FootPrints is designed for the evolving business with a just-right balance of usability, security and functionality. It's flexible enough to configure, affordable enough to invest in, and powerful enough to grow with you.
One integrated ITSM solution
With BMC FootPrints, you choose just the capabilities you need to help ensure IT best practice adoption at a rate that works best for your organization. It even goes beyond IT, empowering you to help other functional departments also improve productivity and reduce costs. Best of all, it does everything from a single, web-based console: one product, one vendor, one support contract, one view into what's going on across your business.
Flexible, fast, and user-friendly
BMC FootPrints is truly easy to configure. From installation and deployment to maintenance and upgrades, FootPrints' ease of use translates to fast installation, rapid ROI, and most importantly, much happier users.
What's New in FootPrints 11.5 Service Core
Improved user experience

User experience enhancements in FootPrints 11.5 not only make navigation more intuitive, but also automatically suggest solutions to expedite resolution and improve user satisfaction and IT productivity. With FootPrints 11.5 you'll experience:
A new homepage layout and login user interface
Updates and improvements to the service catalog
Enhanced configuration item (CI) visualization
Auto-suggest solutions for quicker resolution times
Aggregated time-tracking rollup of subtasks to master ticket
Social IT

You can easily monitor and communicate with your customers via the social media they prefer, including Facebook and Twitter, to better manage user expectations and speed incident resolution. More specifically, you can:
Read tweets from the FootPrints dashboard
Create an incident from a Tweet
Respond directly to the sender of the Tweet through the new address book Twitter field
Automatically post status updates to Facebook and Twitter
Enable intelligent financial and business decisions

With FootPrints 11.5, you can now see and understand the financial implications of an action without having to look to other departments or tools, thus decreasing the time spent on research and improving accurate decision making. More specifically, leveraging the deep process and data integration between FootPrints Service Core and FootPrints Asset Core, you can:
Associate asset financial, warranty and support data with their respective configuration item in the Service Core CMDB
View an asset's worth and other financial data from incident, problem and change processes
Easily view financial data to accurately predict and manage service costing
What's New in FootPrints 11.5 Asset Core
Cradle-to-grave automated IT asset management
BMC FootPrints 11.5 helps you reduce your manual asset management tasks from initial imaging to end of life. Automated deployment, patch, and maintenance of operating systems, applications, and agents deliver true "set-it-and-forget-it" capabilities that ease the ongoing management of complex hardware and software asset installations.
Deploy or migrate large volumes of systems in a short amount of time with multi-casting
Quickly configure automated updates, scanning, and deployment processes
Recognize when a new machine comes online and auto-deploy the correct agent (OS-based) through intelligent agent deployment and management
Maintain compliance through automatically deployed agents
ITSM integration Your Way
With FootPrints 11.5 you can intelligently integrate your asset data with either your on-premise BMC FootPrints or cloud-based BMC Remedyforce solution.
Reduce ticket resolution time while enhancing self-service portal capabilities
Deliver useful, easy, practical, customizable out-of-the-box templates
Enable two-way communications for real time actions
Intuitive, comprehensive asset management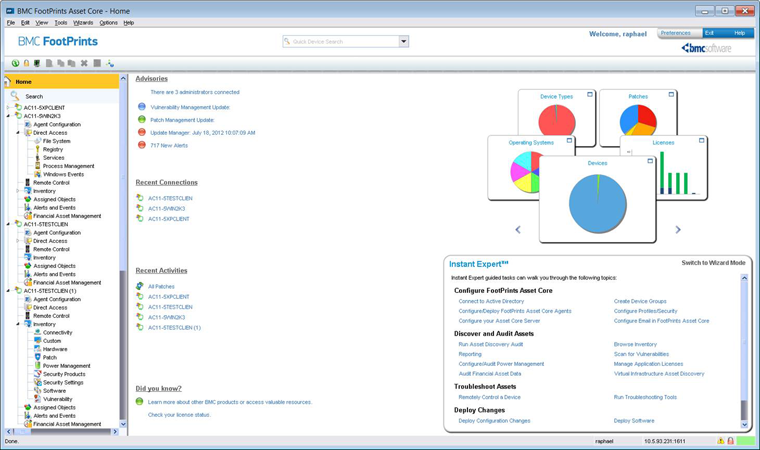 With an enhanced look & feel, customization options, updated Instant Expert tasks and next generation platform support, FootPrints Asset Core improves the administration experience for customized and integrated intelligent IT asset management.

Migration Management
BMC FootPrints Migration Manager expands the reach for migration and desktop transformation projects.
Updated support for server-based user profiles (Windows Terminal Services, Remote Desktop Services, Citrix XenApp)
Extended profile types for migrations (local, roaming, folder redirection)
Convert between profile types for quick and simple migrate users from local desktops to a Remote Desktop Services environments
Application support for Adobe Acrobat Reader/Pro 10.x
Additional Enhancements
Next generation platform support – including Microsoft Windows 8
Discover, deploy, troubleshoot, assess and update Windows Embedded devices
Advanced diagnostics for automated root cause discovery when an asset is no longer being managed properly
Extended inventory data recognition for operating systems, software title normalization and security software updates
Plus more than 100 additional customer enhancement requests & fixes
Learn more about BMC Footprints
Download Your Free Trial
Product Brochures & Datasheets